If you are my follower on twitter, you might aware that
I visited the ArtScience Museum for The Titanic Artifact Exhibition last week!
Kindly follow my twitter HERE if you want to get latest information from me.
Btw, I was wearing this Barrington Anne Dress in Forest Color by LoveBonito
I choosed size S and it was a little bit loose.
The cutting of the dress is very big. I usually wear size S-M for top.
Picture of me and my lovely hair! I love my hair color!
This picture was taken while waiting for him =P
Here's the ArtScience Museum!
I thought the venue was very small as I judged by looking at
the exterior of the Museum.
I was wrong! The exhibition was located at the basement level!
Price of the ticket:
Titanic: The Artifact Exhibition
Adult - S$21.00
Senior Citizen (65 yrs & above) - S$20.00
Child (2-12 years) - S$13.00
There was another exhibition by Dali - "mind of a genius" happening in the museum.
Current Promo: Ticket to both exhibition for $25 (adult) only.
We thought, why not?
Plus, if you have OCBC credit card, you are entitled to 20% off!
We spent about $20/pax for 2 exhibitions. That's a good deal!
Luckily I have an OCBC card.
Tips: Three housemates and I are all using different card!
I have OCBC, he is using UOB, my bro is using DBS and his bro is using POSB.
Hahahaha! So when we go out together,
the chance of getting good deal is higher *wink!
I was excited about the exhibition.
However, later when I found out that photography is not allowed in the exhibition.
I was very sad and dissapointed.
I can understand the reason behind it though.
A replica boarding pass was given to each of us.
He laughed at me
as he represented a first class passenger and
my passenger lived in a second class cabin. *blah!
Here's a RMS Titanic model ship.
Now, what can you expect inside?
Before going into the exhibition venue, we took a photograph at the entrance area.
Ps: Pictures and info below are all found from the internet;
The passengers of the RMS Titanic were among the approximately 2,220 people who sailed on the maiden voyage of the second of the White Star Line's Olympic class ocean liners, from Southampton to New York City.Halfway through the voyage, the ship struck an iceberg and sank in the early morning of 15 April 1912, resulting in the deaths of 1,517 people, including approximately 832 of the passengers.
The Titanic's passengers were divided into three separate classes, determined not only the price of their ticket, but by wealth and social class. Those travelling in first class, the wealthiest passengers on board, were prominent members of the upper class and included businessmen, politicians, high-ranking military personnel, industrialists, bankers and professional athletes. Second class passengers were middle class travellers and included professors, authors, clergymen and tourists. Third class, or steerage passengers were primarily immigrants moving to the United States and Canada.
Let's start from FIRST class cabin.
The Titanic's first class passenger list was a who's who of the rich and
prominent of the upper class in 1912.
A single person berth in first class cost £30, the equivalent of £2,201 and
up to £870 (£63,837 today) for a parlour suite and small private promenade deck.
First class passengers enjoyed a number of amenities including a gymnasium, a squash court,
a salt water swimming pool, electric and Turkish baths, a barbershop, kennels for first class dogs, elevators and both open and enclosed promenades.
First class passengers also travelled accompanied by personal staff—
valets, maids, nurses for the children, chauffeurs and cooks.
Here's how the room looks like. So nice and classic, don't you agree?
I love the furniture!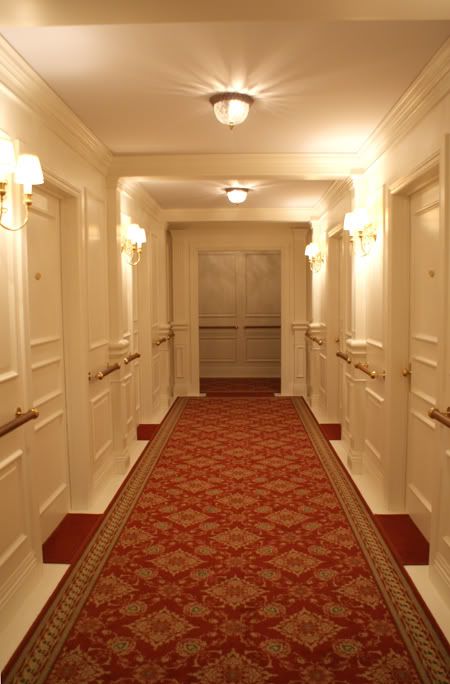 Here's the corridor.
It's much better and looks high class compared to
the corridor of the cruises we have now.
I love classic style. So gorgeous!
Move on, this is how the third class cabin looks like!
Third-class, or steerage passengers were primarily immigrants,
hoping to start new lives in the United States and Canada.
Third class passengers paid between £7 (£514 today) and £9 (£660 today)
for their ticket, depending on their place of origin;
ticket prices often included the price of rail travel to the three departure ports.
Tickets for children cost £3 (£220 today).
Third class passengers were a diverse group of nationalities and ethnic groups.
In addition to large numbers of British, Irish and Scandinavian immigrants,
there were passengers from Central and Eastern Europe (Bulgaria, Croatia, Russia, etc.),
the Middle East (primarily Lebanon and Syria), Hong Kong and Armenians fleeing Turkey.
Some travelled alone or in small family groups.
Several groups of mothers were travelling alone with their young children
most going to join their husbands who had already gone to America to find jobs,
and, having saved up enough money, could now send for their families.
Commercial break: A photo of us at its stunning grand staircase foyer.
Move on, we're at the ice warning area!
You get to touch the iceberg and
feel the temperature level on the night when the disaster happened.
It was bloody cold! #sad
Titanic is a beautiful ship. However, how the story ends made me feel sad.
This is a name lists on the Memorial Wall
that provide information on the fate of the passengers and crew.
Visitors are able to find out if the passenger
who's name appears on the boarding passes
they are given at the entrance to the exhibition survived.
My passenger, I think they survived. Ops! I didn't check the list =P
I goggled about my passenger Mrs Albert Francis Caldwell (Sylvia Mar Harbaugh)
who were travelling with her husband. Here's their story Click Here
Here's his passenger Mr Emil Brandeis's story Click Here
Who doesn't know the story about the luxury giant cruise ship "Ttitanic"?
I, myself know about the story from the movie "Titanic"
starring Leo DiCaprio and Kate Winslet.
I was so honoured to be able to see the
Titanic Exhibition at the Arts Science Museums at Marina Bay Sands Singapore!
The exhibition is on going and will end on April 2012.
The Exhibition features 275 genuine artifacts, recreations of cabins, grand hall
and also a lot of personal stories of people who traveled on the ship.
It was an insightful exhibition. There's a lot of story that you can read from the exhibition.
You can find information on how the ship was built, who was the captain,
you get to see the replica cabin, corridor, grand staircase, iceberg and a lot more.
In addition, expect to see loads of items that they found under the sea too such as jewellery,
utensils, wallet and even a shirt that one of the crews was wearing.
Pictures below were all taken in the souvenir shop.
All of the antique and vintage items.
The New York times
All of the books that are related to Titanic.
Small ships replica of The Titanic
Detail of the ship
Glassware were divided by class too!
This is the replica of authentic third class chinaware.
This is for second class passenger,
This chinaware was designed with blue flora pattern on the side.
Lastly here's the china ware for the first class passenger.
This is exactly style of china that was used at captain smith's table.
Here's the tea set!
They are gorgeous! I was very tempted to get this set!
Another corner selling miscellaneous items.
The New York Times:
Titanic sunks four hour after hitting the iceberg.
RMS
A souvenir that's worth to bring home.
Detail on the replica ship.
Do you remember that corner?
where the couple do the "You jump I jump" scene? ckck..
The back of the ship.
You can see this replica ship in the exhibition as well as
at the shoppe at Marin Bay Sands.
Lastly, we purchased all of the pictures taken in the exhibition.
For 3 photos (1 ship + 1 grand staircase + 1 wallet size) we paid $35 !
It's more expensive than the admission fee. =D
For more information visit: Marina Bay Sands website HERE
or visit Titanic.sg