What a good news! Have you ever heard about the brand Hada Labo?
Without me saying, I bet a lot of you out there know about it.
They are well-known with their popular Hada Lado Hydrating Lotion!
Guess what?
Hada labo has just launched their New:
Hada Labo Cleansing Oil to complement the product range!
Thanks to Hada Labo Singapore and TSS for sponsoring me a generous size of
Hada Labo Cleansing Oil for review.
Most of our make up product comes with a water-proof function,
it's specially important to clean your make up thoroughly
so that it won't clog your pores and creates problem such as acne, blackhead and etc.
The 2 key ingredients in this new Hada Labo Cleansing Oil are;
1. High Purity Olive Oil
ensures high performance cleansing, and yet is very gentle with no irritation to the skin.
2. Super Hyaluronic Acid
gives 2X more moisture than normal hyaluronic acid, where 1g can retain 12 litres of water, giving you refreshing smoothness after cleansing.
Hyaluronic acid in cleansing oil?
What an interesting product! Now, I can moisturize my skin while cleaning it!
Hada Labo products are all Made in Japan!
Honestly, in my daily life, I do not put a lot of make up.
Usually, I'll just use;
BB cream, foundation to set up, eye liner, brow pencil and blusher.
That's it.
If I need to attend party or sort of , then mascara, eye shadow and fake eye lash will be used.
So in this case, I used some make up products to test it on my hand.
Products used for this swatches are;
Crayon eye shadow,
eye brow pencil,
eye liner (silver and brown)
Let watch this video;
Here's the result;
My review:
I have tried the product on my face and on my hand.
Both tests have proven that I can remove my non-waterproof make up effectively.
As for the waterproof make up, it can be removed too.
But, you need to rub on the area for a couple of times to clean it thoroughly which I think,
It's a little bit troublesome.
I personally will continue to use it as I love the hydrating effect on my skin.
My skin feel soft and smooth after cleansing.
It doesn't leave any greasy residue and stickiness as promised.
Most importantly, it does not contain mineral oil which is harmful to skin and clog pores,
unlike other cleansing oils in the market.
I rate this product 6.5/10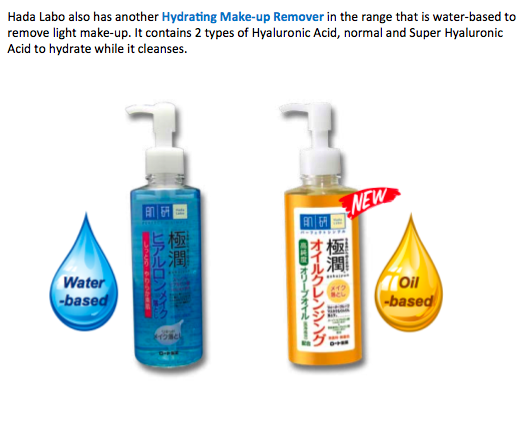 The Hada labo hydrating oil is priced at $20.90
and will be available exclusively at Watson nation-wide November 2011.
The Hada Labo SHA Hydrating Make Up remover is priced at $17.90
and available at Watsons, Guardian, Fairprice and other major departmental stores.
Add Hada Labo Singapore on Facebook HERE