Before I start, this is an introduction of "The story of Amethyst";
Amethyst, a semi-precious gemstone, is a violet variety of the quartz
often used in jewelry.
It has a unique colour and this gemstone is often believed to be a natural
tranquilizer for dispelling intoxication, relieving stress,
soothing irritation, balancing mood and inspiring the intellect.
In fact, the origins of the name came from the Ancient
Greek word 'amethystos' meaning 'not intoxicated',
a reference to the belief that the stone protects its owner from negativity.
A large number of further miraculous powers are
attributed to the amethyst in all sorts of cultures,
including bringing you good luck and abundance.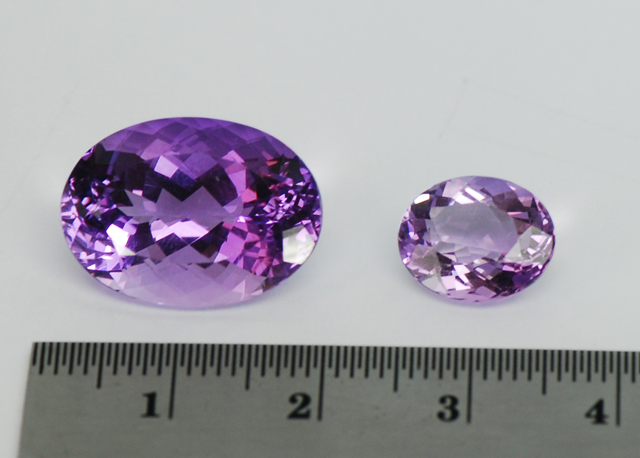 Amethyst is well known as a natural aid for our body.
It produces small, detectable magnetic field & emits beneficial far
infrared radiation & negative ions that enhance circulation,
promote anti-oxidation & rejuvenate skin cells,
all of which are essential to help smoothen & beautify skin.
A coveted gem desired for its power to heal and rejuvenate,
his purple quartz gemstone,
Amethyst, is uniquely incorporated into the latest skincare series from Amethystory which contains real amethyst granules with triple functions:
Cell-rejuvenation, anti-oxidation & promotion of micro blood circulation
for a healthier and more luminous skin.
This could be more than a fairytale come true!
I was so so excited when I saw the products in store.
I was attracted by the packaging! The royal purple is so nice duh!
Anyway, let's move on to the purpose of this post.
Firstly I would like to review the Bubble face wash!
Amethystory Mineral Bubble Face Wash (160ml Price: $14.90)
Soft Creamy Bubbles with Natural Minerals from Amethyst
Want to have more fun while cleansing your face?
Choose the unique & effective Mineral Bubble Face Wash to cleanse your face with
"mineral moisture".
Specially blended with 3 exquisite and effective ingredients for your
skin - Amethyst, Hyaluronic Acid & Bio Energy Fluid, Mineral Bubble Face Wash is
enriched with moisture factors & mineral nutrients to cleanse and remove impurities, dirt
& oil from pores. After wash, it would still continue to provide long lasting moisture to
the skin. Regular use of Mineral Bubble Face Wash will polish away dull skin resulting
in a smoother and more supple looking dewy complexion.
How to use?
Pump adequate amount on your dry palm, spread evenly onto face, massage and clean it with water.
My Review:
This is my second time reviewing bubble face wash.
Compare to X brand, the size of the bubbles of this Mineral Bubble Face Wash by Ginvera
are slightly larger. However, it's gentle and effective enough to clear all of the oil on my face.
After washing, I didn't experience tight feeling like other cleanser.
What's interesting and the difference with X brand is the ingredient!
It contains amethyst, Hyaluronic Acid and also Bio Energy Fluid!
Those ingredients are well-known and proven to be really useful for skin!
Next item is this Amethystory Mineral Aqua Gel (Star Product)150ml, Price: $24.90
Uniquely Removes Cornified Dead Skin with Amethyst for a New & Radiant Skin.
No colouring, no fragrance, this gentle formula is specially blended with Amethyst,
Hyaluronic Acid & Bio Energy Fluid to help enhance the removal of dead, dry & rough
skin & promote skin rejuvenation. After removing the dead skin layers that form a barrier,
your skin would be in a optimal condition to absorb skincare nutrients!
Instant results after use: skin feels fairer, more hydrated, and clearer. Make up can glide
on easier & more lasting with a natural look.
Use the Amethystory Mineral Aqua Gel as a more natural way to improve your
complexion!
How to use?
Pump adequate amount on your dry palm, spread evenly onto face
to remove dead skin and clean it with water.
My review:
Again, this is also not my first time reviewing gel exfoliator.
Compare to other brand, this mineral aqua gel is more watery and light.
However, it serves its purpose though. Look at my picture below.
Can you see all the white thingy? Those are my dead skin!
My face feel soft and clean after using it.
I can see that my skin tone is brighter too.
It's really gentle that it can be used daily ! Most importantly it's affordable.
Compare to brand X that cost about almost $50, this is another good option.
Lastly, this is my favorite product among all.
Amethystory Mineral Aqua Whitening Enhancer (150ml Price: $19.90)
Boost hydration, whitening & penetration of skincare products
Contains Amethyst + Tranexamic Acid + Hyaluronic Acid
This unique formula is specially blended with Amethyst, Tranexamic Acid & Hyaluronic
Acid to boost the hydration & whitening of skin & enhance the penetration of skincare
products for full absorption. Regular use of Mineral Aqua Whitening Enhancer will
provide skin with minerals for better skin rejuvenation & at the same time lighten
complexions evenly for a fairer, radiant and youthful glow.
How to use this?
Just pour a few drops on your palm and pat onto face gently.
My review:
It's not only moisturizing but also has whitening effect!
The texture is a lil bit sticky when I first apply.
After about 2mins, I can feel that my skin has fully absorb the essence.
My skin feel hydrated and brightened instantly.
Look at my picture below! It has toink toink effect too!
My face are smooth and soft after application.
I personally would recommend this product!
Overall I think this AmethyStory Range by Ginvera is really worth to buy!
They are affordable and most importantly have similar effect with other expensive brand!
Lastly, I can't wait to get other product such as their eye contour roll on!!
The eye product is designed in which the roll on is made from violet gemstone-amethyst !
These babies are available in Watson!
Free trial size sample redemption of Amethystory Mineral Aqua Gel