Ehemph...
We went to Marina Bay Sands Casino last week.
As Finally! we've turned 21 !!
Time to go in and have some experiences.
Before we tried our luck, we have agreed that..
We'll only use $50 !! strictly FIFTY DOLLARS !
If we lose it, that's it !
Hahaha... so kia si lol !!
Let me share with you about;
what I saw, what I learned and what I found interesting.
Firstly, you can enjoy Free Flow of
Hot Coffee, Hot Tea, Hot Milo, Hot mocha
and any other drinks that are HOT.
HAHAHAHA...
Why? Bf told me that
Because, they want to keep us awake which I think it's true..!
There were a lot of China and Indian workers in it.
Guess what? They were very daring man..
Hahaha they always put bet like from $25-$50
I only bet $5 ! Hahaha..
I hope they didn't lose they hard-earned money.
Btw, I didn't really bet though..
Because, which ever bet I buy, I lose LOL
Hahaha so suay!
So at the end, I became his assistance lol
holding the money he won.
I was very sleepy as it was middle of the night !
and I wish to go home ASAP !!
Plus !! I hate smokes ! I had headache after smelling all the smokes !
I hope casino prohibit smoking ! Impossible though..
The more people smoke, the more energetic they are, the more they bet.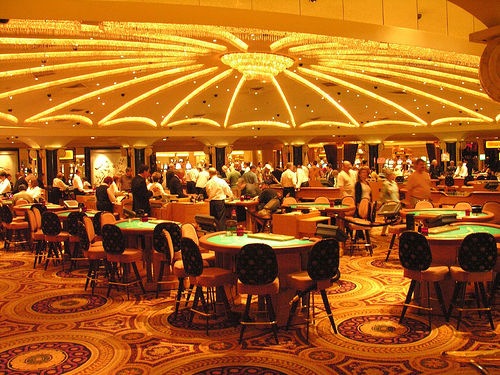 Anyway, so we.....
Picture explained !!
Hahahaha !! =P
It was enough to buy 4 tickets to Universal Studio Singapore
and shop as we like and dine as we wish.
Muahaha mad happy!!
I will share about our trip to USS very soon =)
Update: I just discovered that MBS have no smoking area! on 2nd floor lol
I will go there more often and update you all ok (HAHAHA)